How Do Dental Implants Work?
Here at Pacific Smiles in the Southbay of Los Angeles, we take care of the dental implant process from the very beginning to the very end. Often times, dental offices will do just a part of the process (i.e. just putting the dental implant in or just placing the final crown on) and send the patient to another dental office for the other part of the process. We make it most convenient for our patients to be able to take care of the whole implant process, from the time a patient comes in for their initial consultation to the final step when the crown is placed in, all completed under the expertise of Dr. Kim. Below is an overview of what the dental implant process looks like here at Pacific Smiles, a seamlessly designed process to replace your lost or missing tooth or teeth.
Complimentary Dental Implant Consultation and 3-D Scan
When you come in for your initial consultation, Dr. Kim will start out by taking a Complimentary 3-D CT scan of your teeth so he can evaluate it and assess treatment options. He'll review these options with you with regard to your expectations, needs, and your budget so he can find the best treatment option for your case. This free consultation period allows patients to have their cases evaluated by an experienced Implant Certified Dentist at no cost, so they not only are able to review the assessment of their CT scan, but also know their options regarding treatment in an honest, no pressure environment.
Guided Implant Process
During the initial consultation, Dr. Kim will virtually plan the ideal position of your dental implant(s), showing you how the procedure will be done. Then during the actual procedure, this high-tech guided implant technology will duplicate the pre-planned position through its computer-generated surgical guide. This surgical guide will safely place the dental implant in, often excluding the need for incisions or sutures. This computer-aided technology is very safe and cuts down surgical time due to well-planned implementation of the implant, leaving the patient with minimal discomfort after the operation.
After the implant has been placed in and has had time to integrate, an abutment (connection piece) will be placed on top of the dental implant, giving the final crown a foundation to attach to. The final crown (your replacement tooth) is then placed onto the abutment, finalizing the implant process, and giving you a beautiful new tooth.
Dental Implant Material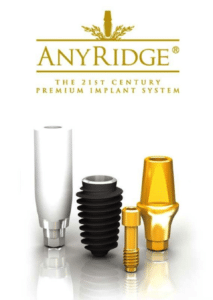 There are many options an Implant Dentist can choose from when it comes to the material and type of implants used, from trusted brands to clones of these brands or even generic types. The type of dental implant chosen is a big key contributor to the overall price of a dental implant, so it's good to know – as with everything – what you're getting for the price you're paying.
To ensure the best quality of implants for his patients, Dr. Kim doesn't use generic or clone implants, simply because they are essentially copies of trusted implant brands, but without the latest and newest technology. After years of experience using multiple systems of dental implants, Dr. Kim has selected to use the MegaGen Anyridge Dental Implant, a premium brand with a solid connection type and years of proven, successful results.
The quality of the materials used here at Pacific Smiles is of utmost priority to us, so we not only use the best quality products in our work but pass this quality assurance onto our patients for a long lasting, worry-free implant dental procedure.
Learn More About Dental Implants in Redondo Beach
View additional before and after photos, all performed by Dr. Kim at Pacific Smiles: Dental Implant Gallery
Learn more about the tooth replacement process: Dental Implants
Let us help craft the perfect smile for you and schedule your free consultation with us today: Contact Us